Malaysian travellers target Japan, Australia, and Indonesia as top travel destinations: Visa study
10/31/2023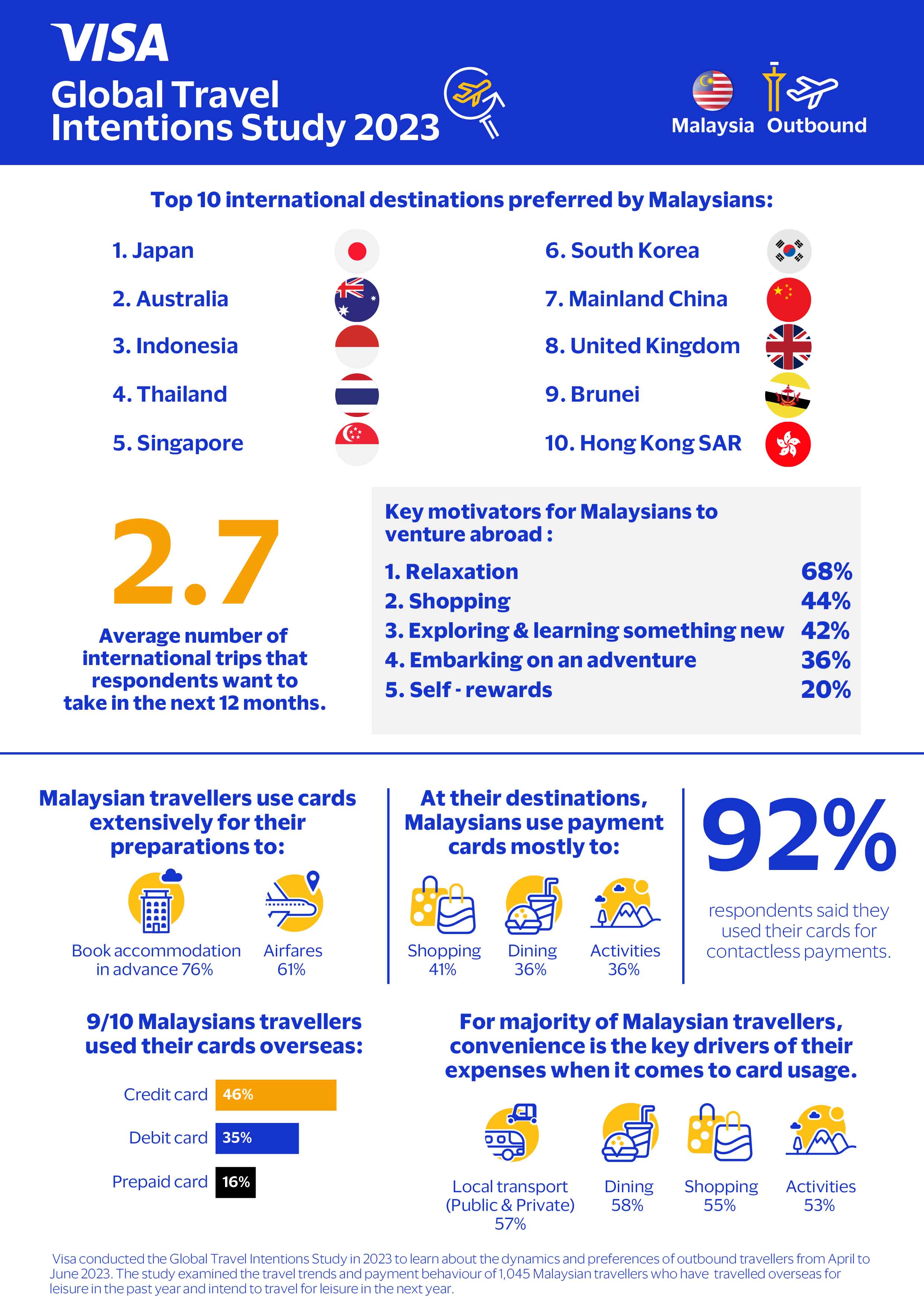 A recent study by Visa highlighted the top five international destinations that Malaysian travellers are looking to visit this upcoming travel season, including Japan, Australia, Indonesia, Thailand, and Singapore. The Global Travel Intentions Study1, Visa's largest and longest-running global consumer insights survey, was recently conducted to better understand Malaysians' travel habits and preferences.
Other five international destinations Malaysians are eyeing to visit include South Korea, Mainland China, United Kingdom, Brunei, and the Hong Kong Special Administrative Region. In addition, survey respondents stated that they intend to take an average of 2.7 international trips in the next 12 months. Of these, 40 per cent of respondents intend to revisit a destination they travelled to in the past 12 months. The remaining 60 per cent of respondents said they planned to set off to destination they have never been to.
Ng Kong Boon, Visa Country Manager for Malaysia said, "Visa is pleased to share findings from our study that indicate a healthy appetite for cross-border travel. These insights can be shared with our financial institution partners so that they can better understand Malaysians' travel preferences and build relevant campaigns that reward our cardholders when they travel and pay using Visa. "
The top key motivators for Malaysians to venture abroad are relaxation (62 per cent), exploring and learning something new (44 per cent), embarking on an adventure (41 per cent), shopping (41 per cent), and self-rewards (20 per cent).
The survey found that Malaysian travellers use cards extensively for their pre-trip preparations, especially on big-ticket items such as booking accommodation in advance (76 per cent) and airfares (61 per cent). At their destination, Malaysian travellers use payment cards when shopping (41 per cent), dining (36 per cent), and while doing activities (36 per cent).
Of those surveyed, close to nine in 10 Malaysian travellers (88 per cent) preferred to use their main domestic cards for their overseas travel payments, with credit cards taking the top spot (49 per cent) followed by debit cards (35 per cent) and prepaid cards (16 per cent). Additionally, more than nine in 10 (92 per cent) of respondents said they used their cards for contactless payments.
When it comes to card usage, a majority of Malaysian travellers said convenience is the key driver of their expenses. Paying via card is the most convenient payment method, especially for items like local transport (public & private), dining, shopping, and other activities.
Despite the increase in travel-related costs, a large proportion of Malaysian travellers do not intend to make significant changes to their international travel plans. More specifically, more than eight in 10 of respondents (81 per cent) said they recognise the rise in travel cost. However, all but two per cent are planning to continue with their journey.
1 Visa conducted the Global Travel Intentions Study in 2023 to learn about the dynamics and preferences of outbound travellers from April to June 2023. The study examined the travel trends and payment behaviour of 1,045 Malaysian travellers who have travelled overseas for leisure in the past year and intend to travel for leisure in the next year.
About Visa
Visa (NYSE: V) is a world leader in digital payments, facilitating payments transactions between consumers, merchants, financial institutions and government entities across more than 200 countries and territories. Our mission is to connect the world through the most innovative, convenient, reliable and secure payments network, enabling individuals, businesses and economies to thrive. We believe that economies that include everyone everywhere, uplift everyone everywhere and see access as foundational to the future of money movement. Learn more at Visa.com.